Wheelie Training Full Session - Los Angeles School
Regular price
$599.00
Sale price
$549.00
Unit price
per
Sale
Sold out
WHAT'S INCLUDED:
- 3 hours lesson with a professional motorcycle wheelie trainer
- Wheelie machine + Yamaha TTR 230
- Snacks and water
- Photography
- Free team hat or T-shirt

NOT INCLUDED:

- Please bring your protective gear (Helmet, gloves, kneepads, elbow pads, moto jacket, boots).
- Full protective gear is also available to rent for $49. We have all the sizes, please reserve in advance. Book your protective gear by phone 1-310-895-4523 or by email info@live100moto.com 
Welcome to the Live 100 MOTO wheelie training school! Our new wheelie machine is the perfect way to learn how to wheelie safely and effectively. 

Our wheelie training school is especially made for for riders who have riding experience, not first time riders.
With the Yamaha TTR 230, you'll have smooth power and a soft landing, making it easier to find your balance point and control the rear brake.
After just two hours on the machine, you'll be able to shift gears from first to third with ease.
And by the end of the three-hour program, you'll have all the tips and tricks you need to become a Wheelie Master! So don't wait - sign up today and take your riding to the next level!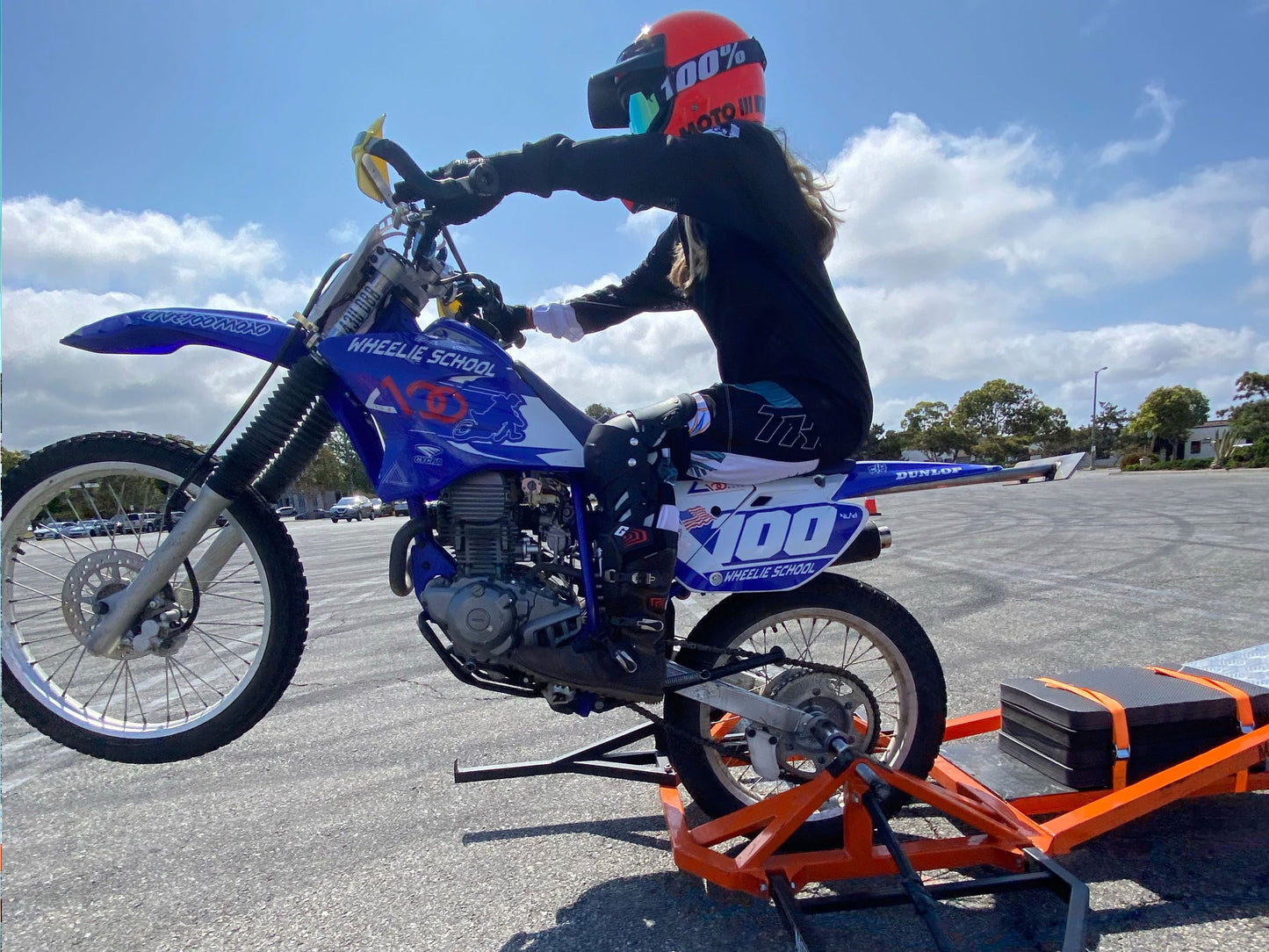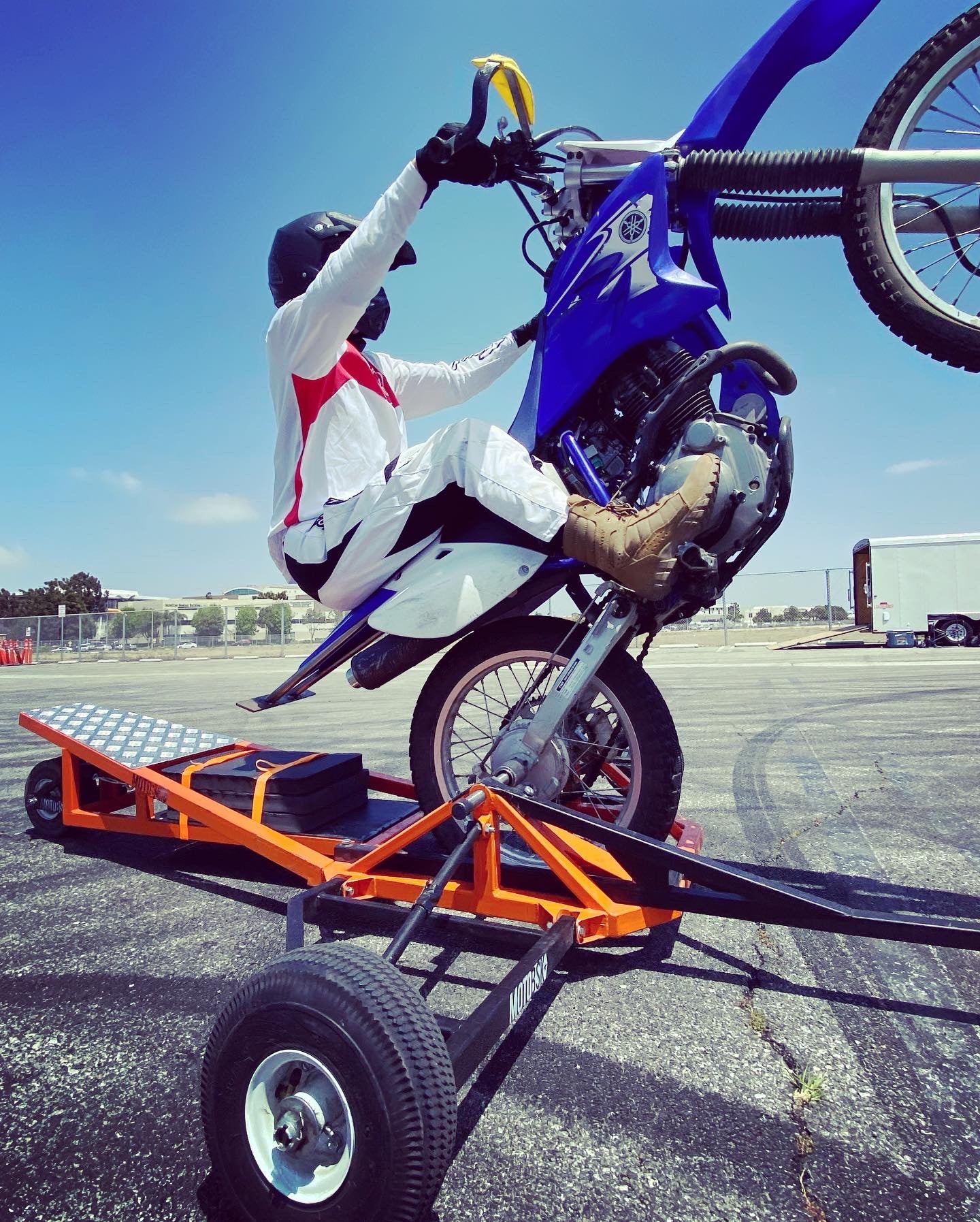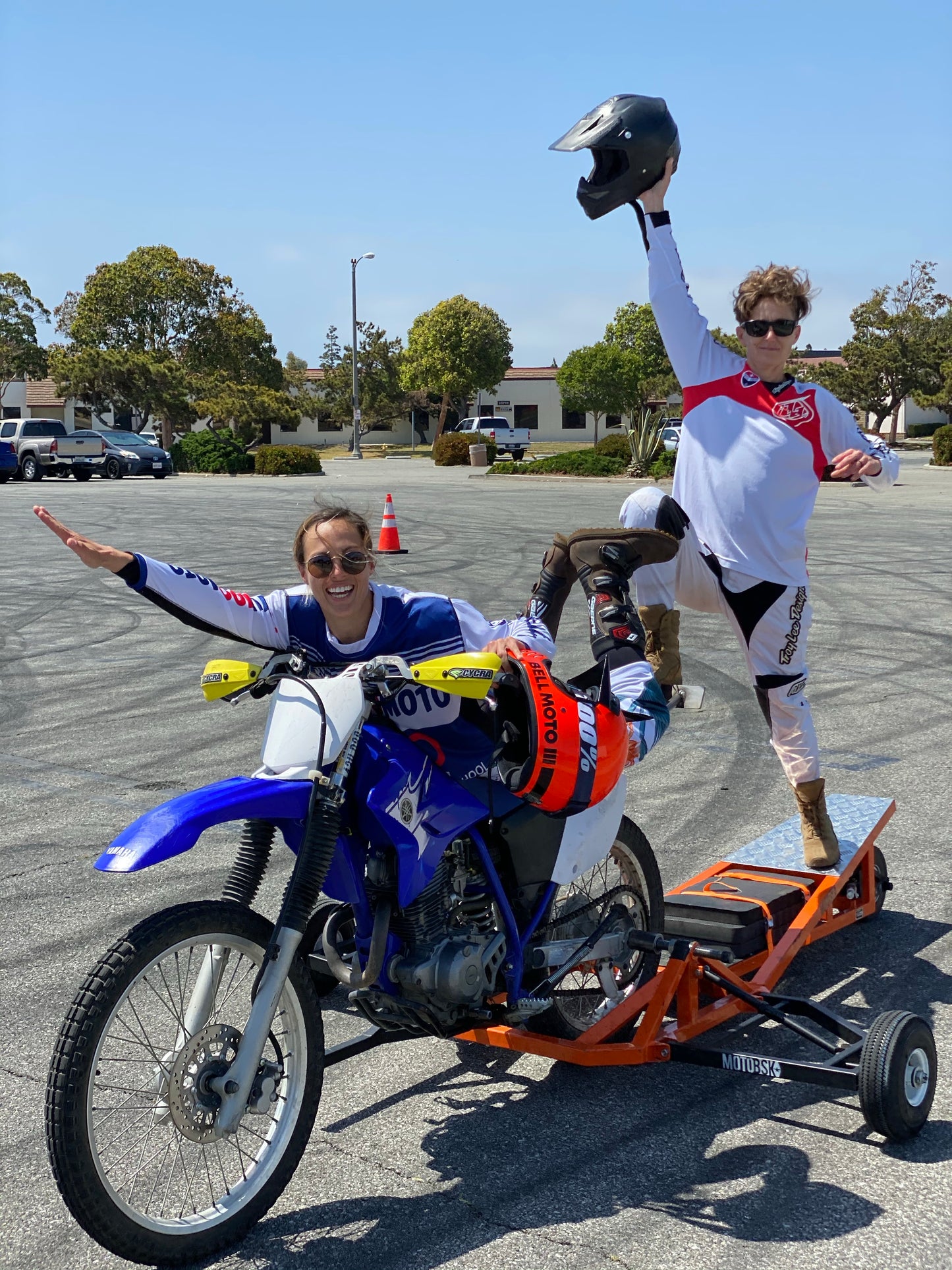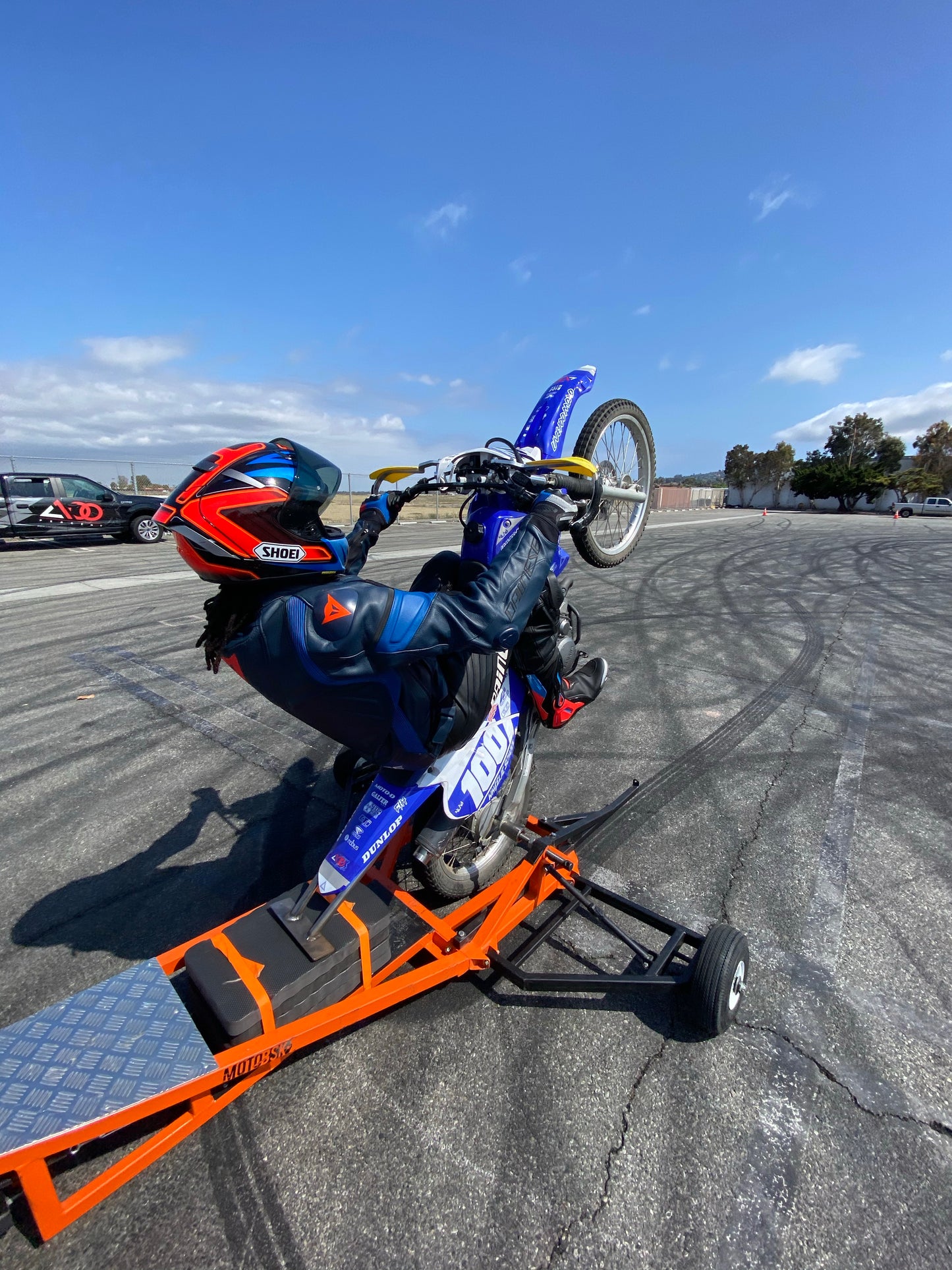 Master your Motorcycle Wheelie skills with the best Wheelie Trainers in Los Angeles
Wheelies are a thrilling and impressive motorcycle stunts, but they also require a high level of skill and control to execute safely. If you're interested in learning how to perform wheelies on your motorcycle in LA area, or simply want to improve your existing wheelie skills, our motorcycle wheelie training school in Los Angeles is the perfect solution.

There are a few different options for our motorcycle wheelie training in Los Angeles, each with its own unique benefits and approach. Some of our training programs are geared towards beginners, focusing on teaching the basic principles of balance and control that are essential for safely performing wheelies. These programs starts with exercises on our professional wheelie machine, gradually building up to low-speed wheelies and eventually full-speed wheelies.

Other motorcycle wheelie training programs we offer in our wheelie school are designed for more experienced riders who are looking to take their skills to the next level. These programs may include advanced techniques such as long wheelies, faster speed wheelies, and overall a more relaxed and controlled wheelie execution. These programs also take place on our wheelie machine, providing a safe and controlled environment for practicing and perfecting these advanced skills.

Regardless of your skill level, Live100Moto motorcycle wheelie training in Los Angeles is a great way to improve your overall riding skills and confidence on the road. Whether you're a beginner looking to learn the basics or an experienced rider looking to take your skills to the next level, there's a training program with us that's right for you.

So, what can you expect from our motorcycle wheelie trainers in Los Angeles? We start with a briefing on safety, covering important topics such as proper protective gear, risk management, and emergency procedures. From there, you'll learn the basics of balance and control on a stationary wheelie machine, then you can start practicing what you learned with our full attention and assistance. As you progress, you'll also have the opportunity to practice longer wheelies, and feel more confortable with more advanced techniques.

Throughout the training program, you'll be guided by experienced wheelie instructors who are dedicated to helping you reach your goals. These instructors will provide one-on-one feedback and guidance, helping you to identify and overcome any challenges you may be facing. They'll also be on hand to answer any questions you may have and provide additional support as needed.

Overall, Live100Moto motorcycle wheelie training in Los Angeles is an exciting and rewarding way to improve your skills and confidence on the road. Whether you're just starting out or looking to take your wheelie skills to Hollywood stuntman level, there's a training program tailor made for you. So why wait? Start your journey towards becoming a wheelie master today with Live100Moto!